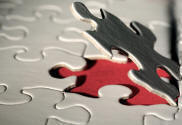 Recent News
For the third year in a row, CMC ranks high among the Inc.com List of 5000 Fastest Growing Private Companies for 2010. Learn More.
CMC Founder and CEO, Stanley Cherkasky, elected to ECCB Board of Directors, an organization dedicated to protecting the environment. Read more.


Change Management Consulting (CMC) is a unique full-service organizational improvement firm. We offer a wide range of assessment services, management consulting, continuous improvement and customized training programs. Our services build resilient, high-performing organizations that are able to quickly adapt to change and evolving economic conditions.
Drawing on years of experience and hundreds of satisfied and loyal clients, we have helped diverse organizations leverage their strengths, build capabilities and fulfill a vision of excellence.
CMC is your "one stop" resource for organizational, leadership and quality improvement:
In short, we contribute to your success with measurable results that fall directly to the bottom line.
As our clients testify, CMC becomes a powerful partner in ensuring sustainable success. It is our ongoing commitment to continuous organizational and process improvement that adds value to every assignment, every service and every product we deliver.
Read the latest CMC articles addressing current quality and management issues.
Read past issues of our free newsletters, each packed with valuable information.