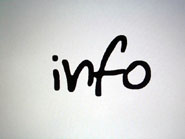 Change Management Consulting, Inc. (CMC) is a well-recognized consultant within the business and public sectors. Consequently, we are frequently requested to speak at professional engagements, seminars and industry gatherings. Our activities are often tracked by news publications and, as recognized experts, out views on current industry trends are solicited. And our experts are know for their insightful articles. Want to know how we can help you? You can access valuable materials here to learn more about our accomplishments and successes.
This is the place where you can also download CMC marketing materials, white papers and case studies.
Check back often, as the CMC Information Center is frequently updated with new materials for your benefit.